Call Recording apps are crucial for recording phone calls for future reference and convenience. Available for Android and iPhone, these apps offer features like unlimited recordings and file exporting. iPhones lack native call recording functionality, but third-party options provide editing, saving, and sharing features. In this post, you'll find some of the best call recording apps for iPhones.
Must-have Features for the Best Call Recording Apps for iPhones
To find the best call recorder app for iPhone, consider factors like compatibility, user reviews, and recording quality. Also, the security and privacy of your recordings should be a top priority when choosing a call recorder app. It is crucial for you to ensure that the app has security measures in place to protect your recordings from any unauthorized access or hacking and that it follows the privacy laws of your area.
18 Best Call Recording Apps for iPhones
Call Recorder iCal‪l‬
Rev Call Recorder
Automatic Call Recorder
Cube ACR
Call Recorder Lite
RecMyCalls
Call Recorder – Int Call
TapeACall Pro
Call Recording by NoNotes
Getacall
Call Recorder – Save & Listen
Call Recorder for iPhone
Eyezy
 Re:Call
 Recordeon
Call Recorder VoIP
Call Recorder – Recostar
MightyCall
1. Call Recorder iCall
Call Recorder iCall is a popular app for iPhone users to record incoming and outgoing calls, saving them and accessing them easily. It uses a 3-way call system to record calls, with the user simply pressing the "Record" button. The app has an easy-to-understand interface and a support team.
Users can start with a free trial before purchasing a premium subscription. iCall doesn't cap recording durations, allowing users to record calls for as long as they want. The app also comes with a 3-day free trial, allowing users to try it before making a purchase. iCall also includes a built-in VPN for added security.
Recommended: Best Scanner Apps For iPhone
2. Rev Call Recorder
Rev Call Recorder is a free iPhone app that provides high-quality, two-way recordings of incoming and outgoing calls. It charges only when needed, has no hidden charges or ads, and has no call length limit. The recordings can be shared and exported via cloud storage services like Dropbox, email, and SMS.
Available for free with a $1.99 credit, it works with US phone numbers and offers accurate transcription services using skilled human transcribers. Rev is a reliable and efficient solution for businesses and individuals seeking accurate call transcriptions.
3. Automatic Call Recorder
Automatic Call Recorder is a top iPhone call recording app with a user-friendly interface and a 3-way call system. It supports recording outgoing and incoming calls, organizes saved calls, and supports cloud services like Dropbox, One Drive, and Google Drive. Although it may not work well with all handsets and has poor voice recording quality, it is free and works without an internet connection.
The app's easy-to-use and clean interface allows users to record calls and edit tracks at will, sort recordings into order within the app, and upload recordings on cloud devices. It also supports speech-to-text conversion of recordings to over 50 languages and works with or without an internet connection.
4. Cube ACR 
Cube Call Recorder is a user-friendly app that records calls and voice notes in high quality. It offers incoming calls, backups, and editing conversations on iPhones. The interface is simple and automated, and the app offers text transcription in native languages. It also offers audio management features, cloud storage, and sharing.
Cube ACR is a premium subscription package with robust call recording functionality, cloud backup, transcription, and protection with Face ID/Touch ID/Passcode. Users can test the app's features before purchasing Premium at $4.99.. It requires iOS 15.0 or later and is compatible with mLite.
5.Call Recorder Lite
Call Recorder Lite is a free iPhone app that records incoming and outgoing calls using the three-way call merge system. Users can upload calls to Dropbox or Google Drive and share them via email, iMessage, or Twitter. The free version records unlimited calls but only allows listeners to the first 60 seconds. The pro version costs $9.99, providing 300 minutes of recording credit. The app also features a transcription feature, allowing users to easily refer back to important information.
Users can share recorded calls and transcriptions via email, iMessage, Dropbox, or social media apps. The app offers a straightforward user interface, quick sharing with other platforms or devices, and supports transcriptions of call recordings
6. RecMyCalls
RecMyCalls is an iPhone call recording app that provides high-quality recordings with clear voices from both sides of conversations. It uses a conference call system and requires users to call a person inside the app. The premium version costs $5.99/week, while the annual plan costs $4/month ($49.99/year).
RecMyCalls features a built-in voice recorder and speech-to-text converter, making it a versatile tool for recording and transcribing conversations. The app requires a monthly subscription but offers regular updates and improvements, ensuring optimal performance and user experience.
The app has a high-intuitive user interface, easy exporting with other apps and devices, and converting voice recordings to text with great accuracy. However, call recordings are not stored in an organized manner.
Read Also: 17 Best Scanning Apps for Android
7. Call Recorder – Int Call
Int Call is a popular call recording app for iPhones, similar to TapeACall Pro. It offers dependable call recording capabilities and sharing options via email, WhatsApp, and other messaging apps. With millions of installations, it supports phone numbers from most countries, uses VOIP for outgoing calls, and records international calls. Pricing is 10 cents per minute, with 30 cents in credit for starting.
TapeACall Pro is a highly rated call recording app for iPhones that enables easy recording of incoming and outgoing calls. It creates a three-way conference call with a third line, ensuring clear recordings for both sides. The app has both free and premium versions, and allows users to transfer audio to their devices.
It is well-integrated with Google Drive, Dropbox, and other cloud storage services, making it easy to save and access recorded files. Users can share recordings through social media and instant messaging apps, and save them on Google Drive, Dropbox, and other cloud storage services.
Although it has some drawbacks, such as requiring too many steps to record phone calls and complaints of background noises and poor audio quality, TapeACall Pro is a must-have app for anyone looking to record phone conversations on their iPhone.
9. Call Recording by NoNotes
Call Recording by NoNotes is a popular iPhone app that offers call recording and transcription features. It allows users to record incoming and outgoing calls, save them in the cloud, and share them via Facebook or email. Additional features include transcribe, dictation, and QR code file playback.
The app offers free call recording for 20 minutes per month, followed by a monthly subscription fee of $10. The transcription service costs between 75¢/min to $423/10 hour. Currently available in the US, the app is a great app to try.
10. Getacall
Getcall is a comprehensive iPhone call recorder app that supports 3-way calling and records incoming and outgoing calls. It saves recordings in the Recordings tab and allows users to replay and share them with friends and others via iMessage, WhatsApp, and Facebook.
The app offers a hassle-free editing process for better control, but lacks a basic freemium variant. To use Getcall, users must subscribe for $5.99/week.
11. Call Recorder Save & Listen
Call Recorder – Save & Listen is a free iOS app that offers various features, including voice-to-text and voice memo recording. It also provides security features with a passcode for locked records. This productivity app is ideal for businessmen, executives, and anyone who loves talking. The app is available for free with a one-week subscription for $2.99.
12. Call Recorder for iPhone
Call Recorder for iPhone is a smart app designed to help users remember important details during phone calls, including phone numbers, addresses, and business information. It is suitable for recording personal and business calls and offers access to recordings at any time and place. Users can share calls with colleagues and friends, and Call Recorder for iPhone provides high-quality voice-to-text transcription and translation into multiple languages. It is available for free (in-app purchases start from $5.99).
Also Read: Top 10 Best Gaming Websites (2023)
13. EyeZy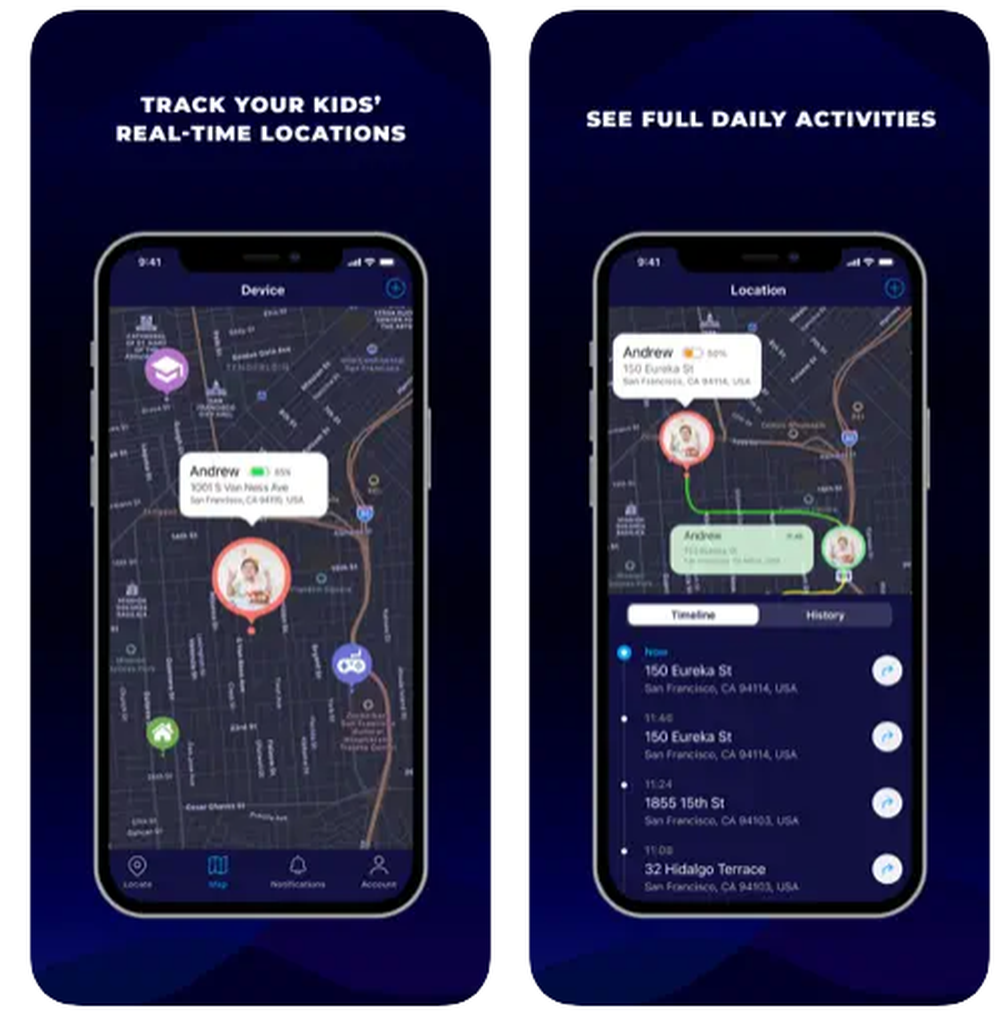 EyeZy is an affordable, user-friendly phone call recording app that records and listens in on incoming and outgoing calls. Installed on Android and iOS devices in just three steps, it tracks activity on apps like WhatsApp, Viber, and Facebook, sends and received messages, and pinpoints the device's GPS location. The app features a file explorer, web magnifier, GPS location tracking, keyword tracking, and geofencing. EyeZy is easy to use, install, and offers 24/7 customer support. The app is available for $9.99 for 12 months, $27.99 for 3 months, and $47.99 for 1 month.
14. Re:Call
Re:Call is a freemium iPhone call recording app that allows easy recording of outgoing and incoming calls, as well as cheap international calls. It also offers a transcription service similar to NoNotes, which costs $9.99/month yearly. Re:Call offers basic tools for editing and deleting recordings, and offers several sharing options. It offers a limited freemium version and a $9.99/month pro version.
15. Recordeon
Recordeon is an iPhone call recording app that simplifies the process of recording private or business calls. It saves all recordings in a native library, allowing for easy tracking and management. Recordeon offers unlimited cloud storage, sharing options via text messages, email, and Facebook, and allows local downloads.
It also features a voice recorder for creating voice notes on-the-go. The app offers a basic freemium version, with a higher price of $4.99/week or $9.99/month for access to a high-quality call recorder and unlimited cloud storage.
16. The Call Recorder VoIP
The Call Recorder VoIP app is a versatile tool for recording phone conversations using three-way calls and VoIP methods. It supports both incoming and outgoing calls but lacks advanced call transcription services. The app's main drawbacks include the need for an internet connection and the possibility that three-way calls may not be supported by your carrier.
17. Call Recorder – Recostar
Call Recorder – Recostar is an iPhone app that allows users to record incoming and outgoing phone calls with a clean user interface. It uses a three-way conference call feature and provides a service number for recording calls. With a subscription, users can enjoy ads without hassle. Key features include an easy-to-use interface, cloud storage storage, no-ads option, and support for text transcription. However, the app is only accessible in certain countries.
Also Read: 10 Best Smartwatches For Men
18. MightyCall
MightyCall's Call Recording function allows for automatic recording and saving of incoming and outgoing calls, making them legal. This low-cost phone service offers crucial features like call recording and CRM connections. Starting at $9 per user per month, it offers easy configuration of menus and recording of both incoming and outgoing calls.
Conclusion
best call recording apps for iPhones are essential tools for businesses to record phone conversations and ensure legal and security reasons. You never know when you might need a recording of a particular conversation you had on the phone. Luckily, there are so many great tools at your disposal, each bringing something unique to the table when it comes to phone calls or voice recordings. Choosing the right one depends on your needs.